In Friday's diary, Housing is Nowhere near Bottom, BUT ... I cited as I have several times previously a paper on housing cycles and recessions that was presented by Prof. Edward Leamer to the Federal Reserve at its Jackson Hole conference in 2007. The paper itself is an excellent, in-depth analysis and I highly recommend your reading it in full if you have an hour or so on your hands due to inclement weather, indolence, intellectual curiosity, or if you just generally have a pathetic life.
Unfortunately, many people are dismissing Leamer because even though the data in his paper led to a spot-on conclusion, namely:
The historical record strongly suggests that in 2003 and 2004 we poured the foundation for a recession in 2007 or 2008 led by a collapse in housing we are currently experiencing....
no doubt influenced by the sanguine outlook preferred by his audience, he disregarded that, and instead included the following paragraph:
But don't worry.... This time troubles in housing will stay in housing. It's because manufacturing has done an "L" of a job.... Though this is uncharted territory, it doesn't look like manufacturing is positioned to shed enough jobs to generate a recession.
as to which from the viewpoint of December 2008 he is undoubtedly beating his fist on his forehead and repeating NO NO NO NO NO NO NO NO NO !
As it turns out, this time it isn't different.
I initially discussed Prof. Leamer's paper over a year ago here. Too often economics is high theory and mathematics, utterly divorced from reality. It suffers from fudge factors ("utility" and "rationality") that render it non-falsifiable no matter what the data. Leamer, by contrast, did what most of us would prefer economists do; namely, assemble the data and only then consider a conclusion. As he said:
[All leading macroeconomic theories] all suffer from the same problem -- too much theory and not enough data. In particular, none of these comes to grips with the role of housing in modern US recessions...
I have not been able to find any macroeconomic textbook that places real estate front and center, where it belongs....
Something's wrong here. Housing is the most important sector in our economic recessions and any attempt to control the business cycle needs to focus especially on residential investment.
Therefore:
My goal is to provide unforgettable images that leave a lasting impression regarding the importance of housing to what we call the business cycle...
Leamer's (very extensive) exposition of the data led to the following conclusion:
The first item to soften and the first to turn back up is residential investment:
The temporal ordering of the spending weakness is: residential investment, consumer durables, consumer nondurables and consumer services before the recession, and then, once the recession officially commences, business spending on the short-lived assets, equipment and software, and, lasst, business spending on the long-lived assets, offices and factories. The ordering of the recovery is exactly the same.
Leamer used a sophisticated mathematical "kernal" to calculate the relative contribution of housing to GDP during expansions and recessons, in order to arrive at his conclusions, but we can approximate this by looking at Real Residential Investment (i.e., normalizing for inflation) which was calculated annually until the post WW2 era, and quarterly since: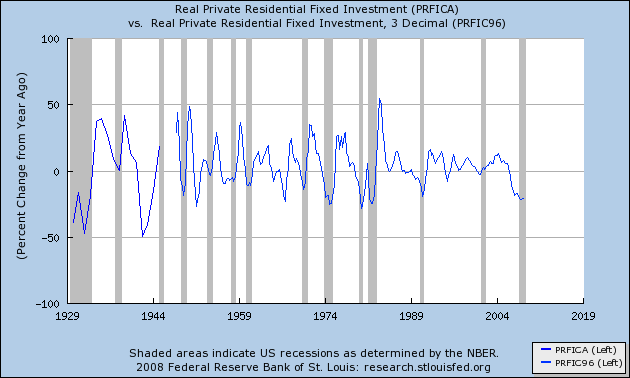 (note: I have omitted 1945-46 because investment soared at a 300% YoY rate, which would reduce the rest of the graph to squiggles!)
What is most noteworthy is that the %age increase in real residential investment has always peaked before the onset of the ensuing recession. Since the onset of the Great Depression in 1929, it has troughed at the end of the recession 4x, in advance of the end 7x, and before the onset of recession 2x -- i.e., either at or before recession's end. To put it simply, %age change in Real Residential Investment is confirmed as a major leading indicator.
Our current economy is such that statistics which only date from the post-WW2 inflationary era can be gravely misleading. In that regard, Leamer's aside to pre-WW2 housing data is most noteworthy, to wit:
The housing starts data available from the Census Bureau begin in 1959 [but] ... the image [ ] of the earlier data in Ketchum (1954)... [shows that] ... housing starts declined beginning in 1925! .... Problems in housing led the great depression by a full three years. ...[I]t seems possible that the increase in the discount rate in 1928 was very hard on an already weakened housing sector, and set in motion the events that led to the Great Depression, dropping housing starts from around 850 thousand in 1925 to a meager 40 thousand in 1933.
Here is the image referred to in the above paragraph:

Approximating Leamer's ratio by comparing Real residential investment to GDP, I have been able to calculate that the previous two worst post-WW2 declines have been from July 1978 to July 1982, at ( -46.6%) from 6.35% of GDP to 3.39% of GDP; and from January 1973 to January 1975, at ( -38.6%) from 7.15% of GDP to 4.39% of GDP.
Although Leamer's ratio cannot be calculated on the same chain-weighted inflation basis for the pre-WW2 era, using regular norming for inflation, it appears that from 1929 through 1933, the ratio declined approximately ( -69.8%) from 5.61% of GDP to 1.71% of GDP. Since we know that housing starts declined over 50% from 1925 through 1929, it seems likely that the peak ratio was about 10%!
(As an aside, the ratio of new housing starts at their peak in 1925 of 850,000 units to 116 million population, almost exactly match that of 2005's 2.273 million to 300 million population, at .75%)
If this were a regular, "minor" recession like 1991 or 2001, by the time the service sector rolled over a couple of months ago, housing starts might already have bottomed and a nascent recovery might have started. Unfortunately, for reasons that need to be more fully explored in another diary, there was a singular decline in consumer spending that began in September and may be having the effect of an avalanche now. Indeed, the most recent housing starts data from October: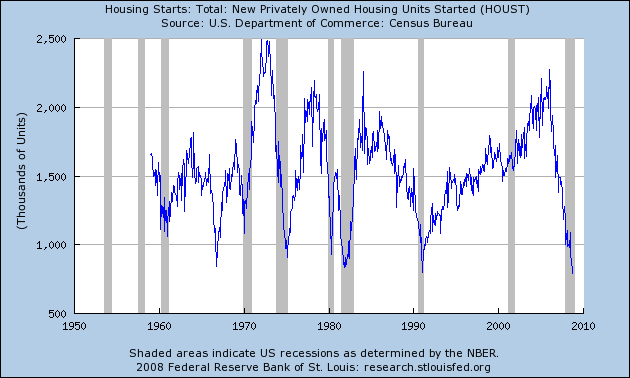 at an annual rate of 791,000 starts, is the lowest reading since the end of WW2. Leamer's ratio has declined from October 2005 through July 2008 ( -44.6%) from 5.43% of GDP to 3.01% of GDP. By now, the decline almost certainly exceeds that of 1978-82.
In short, Prof. Leamer's model shows that we are still firmly in recession. Leamer himself should have stuck with what his model concluded (which was absolutely correct) and not ventured into the "uncharted territory" of "this time it's different." This time it isn't different.
As my regular readers know, I like to follow the data and be alert to changes in trend. Friday's diary was about the change in the rate of a trend, i.e., the rate of decline in the volume of housing starts. I noted that even if, in terms of prices, Housing is Nowhere near a Bottom, in terms of volume of new houses started, we might be getting closer -- at very least, we might be near to the bottom of the waterfall decline, and in view of navigating the lower rapids. If this shows up in the next few months in real residential spending, that will suggest the free-falling economy of autumn 2008 is stabilizing. It isn't there yet.