BLS has released March unemployment for states, and they are bad. Really bad. The 10% club has a new member: Indiana. And five other states will are close to joining the club: Florida (9.7%), Kentucky (9.8%),Mississippi (9.4%), Ohio(9.7%), and Tennessee (9.6%).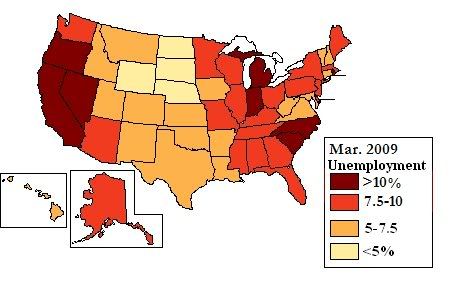 With the exception of Florida, it's clear what is driving up unemployment in these states. It's hard times in the auto industry.
In addition to its finding that a bankruptcy-related shutdown of the U.S. motor vehicle industry could cost up to 3.3 million U.S. jobs, this study finds:

• The 900,000 to 3.3 million jobs lost nationwide would be distributed among all 50 states and the District of Columbia, with the biggest losers, in numeric terms: Michigan (112,500 to 407,300 jobs lost), California (84,500 to 305,900 jobs), Ohio (60,500 to 219,100 jobs), Texas (55,200 to 200,000), Illinois (42,800 to 154,900), Indiana (40,700 to 147,300), and New York (39,900 to 144,600) (Table 2a).

• The hardest-hit states, as a share of total state employment, are: Michigan (up to 407,300 jobs, 8.9% of state employment), Indiana (up to 147,300 jobs, 5.0% of employment), Kentucky (up to 75,000 jobs, 4.2% of employment),
Alabama (up to 76,100 jobs, 4.0% of employment), Tennessee (up to 106,400, 4.0% of employment), and Ohio (up to 219,100 jobs, 4.0% of employment) (Table 2b).