Standards and Poor just downgraded the United States from AAA to AA+.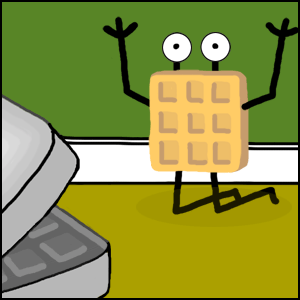 All Hail the credit ratings agencies. Some of S&P's reasons for downgrade are American politicians are whacked out nutso and play political games of chicken to the point of putting the entire nation at risk. Today's legislators are unpredictable and unreliable for future governing.
From their press release:
We have lowered our long-term sovereign credit rating on the United States of America to 'AA+' from 'AAA' and affirmed the 'A-1+' short-term rating.
We have also removed both the short- and long-term ratings from CreditWatch negative.
The downgrade reflects our opinion that the fiscal consolidation plan that Congress and the Administration recently agreed to falls short of what, in our view, would be necessary to stabilize the government's medium-term debt dynamics.
More broadly, the downgrade reflects our view that the effectiveness, stability, and predictability of American policymaking and political institutions have weakened at a time of ongoing fiscal and economic challenges to a degree more than we envisioned when we assigned a negative outlook to the rating on April 18, 2011.
Since then, we have changed our view of the difficulties in bridging the gulf between the political parties over fiscal policy, which makes us pessimistic about the capacity of Congress and the Administration to be able to leverage their agreement this week into a broader fiscal consolidation plan that stabilizes the government's debt dynamics any time soon.
The outlook on the long-term rating is negative. We could lower the long-term rating to 'AA' within the next two years if we see that less reduction in spending than agreed to, higher interest rates, or new fiscal pressures during the period result in a higher general government debt trajectory than we currently assume in our base case.
Supposedly the U.S. Treasury has said there are major mathematical errors in S&P's analysis:
A mathematical error discovered late Friday by Treasury Department officials threw into limbo, at least temporarily, plans by ratings firm Standard & Poor's to downgrade the top-notch AAA credit rating the U.S. has held for 70 years.
S&P earlier demanded the United States reduce the debt by $4 trillion....or else. Seems S&P was bound and determined to carry out or else after the United States didn't enact their draconian budget cuts.
None of the other two credit rating agencies downgraded the United States.
From the S&P press release:
We lowered our long-term rating on the U.S. because we believe that the
prolonged controversy over raising the statutory debt ceiling and the related fiscal policy debate indicate that further near-term progress containing the growth in public spending, especially on entitlements, or on reaching an agreement on raising revenues is less likely than we previously assumed and will remain a contentious and fitful process. We also believe that the fiscal consolidation plan that Congress and the Administration agreed to this week falls short of the amount that we believe is necessary to stabilize the general government debt burden by the middle of the decade.
It appears S&P is demanding the United States screw the U.S. middle class out of their meager social security, which is solvent, as well as Medicaid and Medicare. That is what they mean by entitlements.
Yet another press release paragraph, again, calls out our Congressional crazies. Seems on this point S&P is expressing the outrage of the entire nation. Too bad it's gonna cost us for them to say somethin':
The political brinksmanship of recent months highlights what we see as
America's governance and policymaking becoming less stable, less effective, and less predictable than what we previously believed. The statutory debt ceiling and the threat of default have become political bargaining chips in the debate over fiscal policy.

Despite this year's wide-ranging debate, in our view, the differences between political parties have proven to be extraordinarily difficult to bridge, and, as we see it, the resulting agreement fell well short of the comprehensive fiscal consolidation program that some proponents had envisaged until quite recently.

Republicans and Democrats have only been able to agree to relatively modest savings on discretionary spending while delegating to the Select Committee decisions on more comprehensive measures. It appears that for now, new revenues have dropped down on the menu of policy options. In addition, the plan envisions only minor policy changes on Medicare and little change in other entitlements, the containment of which we and most other independent observers regard as key to long-term fiscal sustainability.
There is no doubt costs of health care are outrageous and there is no doubt the #1 reason we are in this fiscal mess are the Bush tax cuts and the GOP refusal to even block a few common sense tax loopholes.
That said, S&P has much power and now interest on the debt will cost much more. At this point, it might be useful to see exactly what S&P is demanding, beyond $4 trillion in budget cuts.
Many financial and economics writers have already concluded S&P has a political agenda from their previous threat to downgrade the United States.
Bear in mind S&P, along with Moody's and Fitch, slapped AAA ratings on pure, toxic junk. Bundles of mortgage based derivatives were pure fiction, but that didn't stop the credit ratings agencies.
Were the ratings agencies reformed by any legislation after that? Nope. Not a damn thing happened to them. Seems credit ratings agencies have more power these days than nation states. Except for Italy. They seized S&P documents, along with Moody's, as they have their own downgrade disasters.
Earlier a China adviser said they should float their yuan so China did not have to buy more U.S. treasuries.